So, there is this sewing pattern company in Germany called
Farbenmix
. Their style is so stinkin´cute, I can barely stand it. I long to make clothes as cute as these! Here are a few of my absolute favorites done by others:
How could I
not
be inspired after seeing patterns to make things such as these? A little intimidated, sure, but I just had to try!
I actually sewed my very first Farbenmix pattern last year, a skirt called Tess, but it didn´t have all the little embellishments, just an interesting shape for the pieces:
"Wax" fabrics made here, in Lubango, Angola.
I also have their book (with
Studio Tantrum
, an American pattern company)-
Sewing Clothes Kids Love
. I have only tried the Brooklyn Tank Top so far from that book. I made three last month:
But this was my first attempt at a full-on, all-holds-barred Farbenmix pattern. I decided to do three pairs of pants called "Bo". I wanted to make some for my nephew who is turning 13, but figured that I needed to try a smaller pair first, so I decided to start with a pair for my son. I went with the 3/4 length because it´s different, and besides, it´s hot here.
Choosing the fabrics for my nephew´s proved hardest of all! They needed to be suitable for a 13 year old (not too wacky), durable (I´ve seen him play), but still cool. I finally settled on some navy tiny plaid, only to find that I didn´t have enough. *sigh* I considered other plaids, solids, old jeans..... and settled on this tan linen with brown twill (like denim) pockets.
These were my inspiration.
But alas, the linen hadn´t been washed yet, and of course the power was out (the generator powers the sewing machine, but not the washing machine or water pump). So, I got the kids to help me hand wash the fabric...
... and while that was drying on the line, I started on these for my daughter (and finished them later):
And here are the ones I set out to make in the first place, finally done, just in time for his birthday party.
Did I mention this pattern is in German? Well, I don´t read German, and this thing was complicated! I would never have even finished the first pair without the help of my German friend,
Karin Baker
- thanks, Karin, you´re a peach!
And it just so happens that Pattern Review is having a contest through June called "One Pattern, Many Looks", so I decided I may as well enter these 3 pairs of pants in that!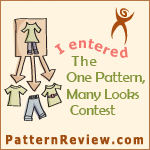 Great coincidence or what?
***UPDATE***
One more thing- I decided to write my own English instructions to go along with
the photo tutorial Farbenmix has on their website
to make the Bo pants.
Here it is (English version)
in case you need help.