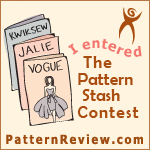 I am off to a great start with the Pattern Stash Contest on Pattern Review! In the first 3 days, I made three things:
I made this chocolate brown French terry tank top, which is very comfortable (but a little low cut). What a quick and easy pattern! I will definitely be making more of these. I love the side ruching.
Then I made my daughter this swirling twirl skirt:
This is an unusual pattern! It seems complicated at first, but once you really get into it, it´s pretty simple. She loves it!
And then my son got another new pair of cargo shorts:
I didn´t care too much for this pattern. The sizes are enormous (this is a 2T!) and the instructions are totally indecipherable. I just winged it. They turned out pretty cute though. And they should fit him for several years.....
I have many more patterns planned, but the elements seem to be against me. The power has been off most of the time the past few days. Although we figured out how to make the water pump and the lights to my fabric & notions room work on the generator, I cannot iron or wash anything. The washing machine broke like a week ago, and we can´t figure out what is wrong or find anyone to fix it. (And you might remember from a previous post that I HATE hand washing, at least more than one or two things at a time). I have also just discovered that I cannot iron when we are on generator power, not even if I turn off the water pump and extra light circuits. I don´t understand it. I
used
to be able to iron with the generator.... *sigh*
I have some exciting things on deck, including my first attempt at some Japanese sewing patterns! Wish me electricity and an appliance fairy. *fingers crossed*